Carrot Plant Overview
Carrots, such an easy and rewarding vegetable to grow! They are resistant to most pests and diseases. You can grow them in beds, containers and even window boxes making them suitable for gardens of any size. Not all carrots are orange. You find them in variety of colors such as purple, red, white, and so on.
This document focuses on growing Carrots.
Table 1 Planting Guide
| | |
| --- | --- |
| Depth to plant | 1/4'' inches deep |
| Spacing between seeds | Space plants about 2'' - 4'' apart |
| Spacing between seedlings | Space rows about 12''' apart |
| Days to germinate (Sprout) | 7 - 21 days |
| Planting season | Summer Spring Winter |
| Plant height | Appx. 12" tall |
| No. of Plants per sq. ft. | Appx. 16 plants per sq. ft. |
| Soil requirement | Prefers soil with pH levels of 5.5 - 6.5. |
Carrot Plant Prerequisites
Plant Type: Carrots are biennial plants
Light: Full sun
Water: When it comes to watering carrots in container gardens, keep the potting soil constantly moist
Carrot Growing Steps
The following steps define the process from seed to harvest.
1. Before you are ready to sow your carrot seeds, your potting mix plays a critical role in the formation and development of carrots. So, you must ensure your soil is:
• Free of stones and large lumps: Ensure a well shaped carrot, without any forked roots
• Free of weeds: Ensures complete nutrition to carrots
2. Prepare a good growing medium. A good, simple option is a mix of one part potting soil, one part sand, and one part Vermi Compost (VC). You can also add two handful of Coco Peat (CP). The soil and VC provides your plant with the nutrients it needs, while the CP mix retains the moisture. The presence of sand ensures an even potting texture, which is light, to form perfect roots.
3. You must directly sow the heirloom seeds of carrots from My Green Vault into containers. You can create a mini greenhouse effect by covering the seedling with a PET bottle which is cut at the base.
4. Once the carrot seedlings emerge, you can move your container to partial sunlight.
Carrot Plant Maintenance
Carrots require evenly moist soil to ensure the best and fast growth. Do not over water or allow the soil to dry out.
1. You can add adequate amount of VC or Compost Tea (CT), based on the requirement.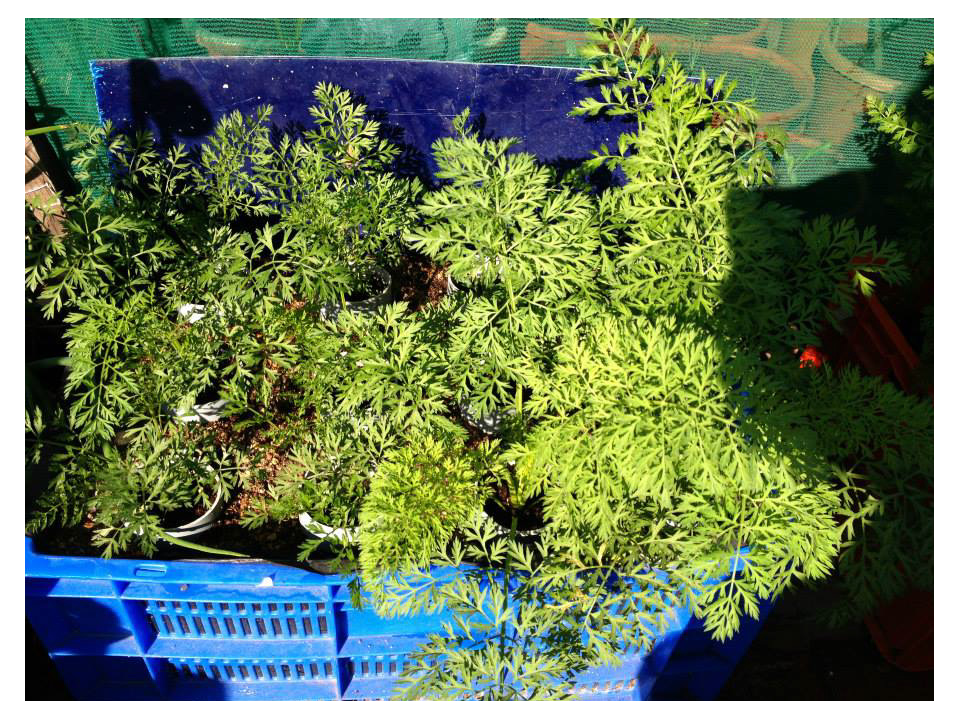 Note: For more information on CT preparation and application, refer to ***.
2. Make sure your carrots receive at least 1"-1 1/2" of water a week.
3. Ensure to retain soil moisture and an even growing temperature. If you see carrots with exposed shoulders (as in, when the top of the carrot turns green from sun exposure), move soil or mulch up against them.
Greening occurs when soil washes away around the tops of the roots, so, you can top them with VC.
Carrot Companion Plants
Onions, Basil, Rosemary, Sage.
Carrot Plant Protection
Carrot Plant Pests
Carrots are generally immune to many pests and diseases. Sometimes, they can be attacked by:
Carrots Diseases
Except for Root Knot Nematode, carrots have no serious disease problems.
Carrot Plant Organic Control
Once you have identified the troublemakers, you can control them with an assortment of organic pest-control methods. The following list contains few methods:
a. Carrot fly
– Use resistant varieties of carrot
– Surround the crop with a barrier of strong smelling herbs such as basil or sage
– Concoction of Neem cake + Honge cake once (handful of Neem and Honge, mixed in equal proportion in three liters of water)
b. Root Knot Nematode
– Application of Neem cake during planting
Carrot Harvesting
Your organic carrots are ready for harvest when a tiny head or crown of orange appears at the soil line. The diameter of the carrot is a good indication of its maturity level.


The time from planting to harvest is 60 to 80 days from seed. The charming carrots, in their bright orange hue, can brighten your day!
Tip: Don't throw those carrot greens away. They can be used in the same way you would use coriander, either as a garnish in salads, or as for the carrot-greens soup.